Choosing the right jewellery for you is like choosing the right book to read. Its a commitment to see it through till the very end, even passing it onto generations to come; revisiting the favourite excerpts like bookmarking the jewellery that complemented the ensemble.
As a beginner, one does make the mistake of thinking jewellery to be trivial to build a high fashion wardrobe. It's the last thing on the mind to focus on, or something that can take a backseat save for finding a bauble for the evenings induced with cocktails. But the right jewellery can transform your ensemble from a cluttered desk with sticky notes lookalike to a mahogany coffee table with carefully laid druzys and potpourri.
We believe in having a rule of threes when picking up jewellery, (as most things have a rule of threes and not four or two) . One must follow three essential categories that cater to a wardrobe holistically, which would essentially mean having a subconscious budget and still fulfilling your duty towards fashion.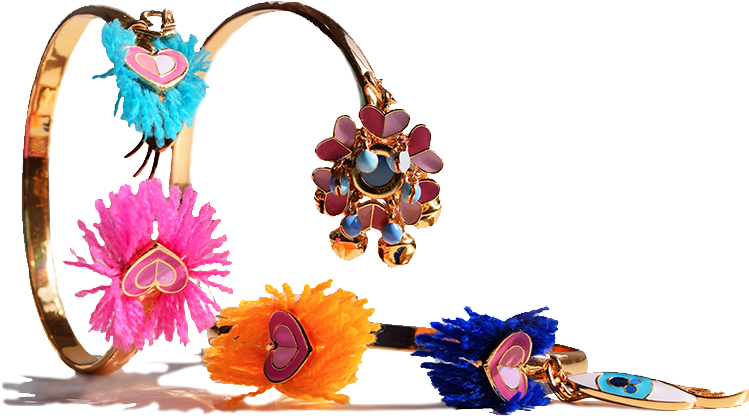 Owning pieces that are versatile and hint to an esoteric sense of grandeur in fashion, come carved with fine details and an aura of sophisticated regalia. The classics of jewellery are additions that enhance even the basic boyfriend jeans with a tucked in t-shirt look to a re-imagination of something worn when you're on a very busy corner of the street avoiding paparazzi, with green juice in a take-away cup as part of this facade. Cue in some fine crafted midi rings- minimal yet giving that attention to detail, and artisanal bangles that act as staples for any day-out ensemble you whip up.
On the other side of the fence, nothing beats a short-necked necklace or choker, and alternatively a pair of shining chandelier earrings for a little cocktail classic. It's important to choose either of the two so as to avoid looking like a modern-day Cleopatra.
To put it statistically, people tend to opt for dressing in casual silhouettes more often than the typical pajamas-to-office theory when the Monday blues start spreading across the calendar. Fuss-free jewellery that feels barely there and yet looks flamboyant as ever, choose studs with a little oomph and a unique design, than just- well, basic studs. Add to that a little bit of neck-chains, non-constricting and seemingly casual when they're anything but!
Glamour is intrinsically synonymous to jewellery as part of the statement you want to make for the occasion adding the jazz-pizazz shenanigans to the ensemble. Part of having a complete 360 on the basics of jewellery is to know that jewellery heightens the glitz in your character donned for the day or night.
Choose pieces that are unusual and statement, and by statement we mean go bold and big. Its the night style goes all out with sprucing to enhance the fashion sense like the seventh sense itself.
One can go for a bit of avant garde jewellery that doesn't grace the walls at fast fashion stores.
Leave words like 'convenient' and 'simple' in the nightstand before you go out, having no business being the buzz kill to your Beyonce moment.