An Ultimate Guide To Types of Stud Earrings
Often underestimated as a powerful accessory, the earring is a wardrobe staple in many closets. However, the sheer variety of styles and options available can get quite overwhelming. And just like clothing, some accessories might look better on certain faces or certain outfits. However, limiting yourself to a box doesn't sit right with us.
Enter the universally flattery accessory, stud earrings. No matter what your face shape, your outfit, or the occasion, A stud earring is a foolproof classic that will complement every look. There are various types of stud earrings, such as those made of unconventional shapes and some to suit ethnic ensembles.
Explore - Best Stud Earrings for Enhancing Every Look [2023]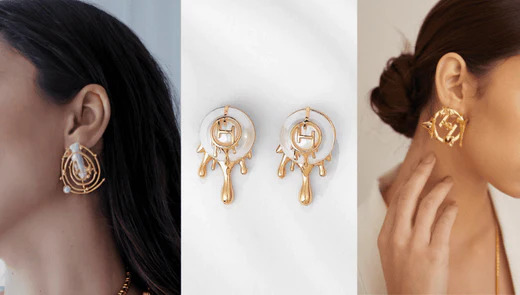 Stud earrings, also known as ear studs, are a classic and versatile jewellery type. Unlike dangly or hoop earrings, studs are designed to sit directly on the earlobe. They are comprised of two main parts: a decorative front, often featuring gemstones or intricate designs, and a post that passes through the earlobe and secures with a backing. This design not only adds a touch of sophistication to your ensemble but also ensures comfort and ease of wear.
Must Have Types Of Stud Earrings
Pearl stud earrings are a true classic. They exude sophistication and timeless charm. Whether you opt for lustrous freshwater pearls, elegant Akoya pearls, or luxurious South Sea pearls, these studs add a touch of grace to any outfit. Pearls symbolize purity and wisdom, making them the perfect choice for both formal occasions and everyday elegance.
Gemstone stud earrings offer a vibrant and colorful twist to your jewellery collection. From sapphires' regal blue to the fiery allure of rubies and the calming green of emeralds, each gemstone tells a unique story. Choose gemstone studs that align with your birthstone or simply select your favorite colors to brighten your day with elegance.
Floral stud earrings bring the beauty of nature to your ears. Crafted with intricate designs, these studs feature delicate blossoms and petals that capture the essence of a garden in full bloom. Floral studs are perfect for adding a touch of femininity and whimsy to your ensemble, whether you're attending a garden party or a romantic dinner.
Gold stud earrings are a testament to timeless luxury. Their warm, rich tones make them an excellent choice for those seeking understated opulence. From classic yellow gold to modern rose gold and white gold, these studs are versatile and can seamlessly transition from day to night.
Evil eye stud earrings not only make a fashion statement but also carry cultural significance. These protective symbols are believed to ward off negative energy and bring good luck. Choose evil eye studs to add a touch of mystique and spiritual significance to your jewellery collection.
Big stud earrings make a bold statement. They're perfect for those days when you want to express your confidence and personality. These studs come in various designs, from oversized pearls to dazzling crystals, ensuring you stand out from the crowd.
Cluster stud earrings feature a group of smaller gemstones intricately arranged to create a stunning mosaic effect. These studs offer a unique and eye-catching design that combines elegance and complexity. Cluster studs are perfect for adding a touch of drama and sophistication to your attire.
Tips for Choosing the Right Stud Earrings
Consider your face shape and how different stud earring styles can complement it.
Pay attention to the metal type, as it can impact the overall look and feel of the earrings.
Select earring backings that are comfortable and secure, such as screw-backs or push-backs.
Experiment with mixing and matching stud earrings to create unique combinations.
Now that you've delved into the world of stud earrings, it's time to explore the exquisite collection at Outhouse. Whether you're drawn to classic pearls, vibrant gemstones, or contemporary silver, we have the perfect studs to enhance your elegance. Elevate your style, make a statement, and celebrate your individuality with our carefully curated stud earrings.
Frequently Asked Questions
What is the difference between post and stud earrings?
The primary difference is in the earring's backing. Stud earrings have a flat backing that sits flush against the earlobe, while post earrings have a small, straight post that goes through the earlobe.
How do I choose the right size of stud earrings for my ears?
Selecting the right size of stud earrings depends on your personal style and comfort. Smaller studs offer a subtle look, while larger ones make a statement. Consider your earlobe size and personal preference when choosing the perfect size for you.
What are the latest trends in stud earring designs for 2023?
The latest stud earring trends for 2023 include asymmetrical designs, nature-inspired motifs, and sustainable materials. Keep an eye out for unique shapes and bold colors.