We Have You Covered On All The Types Of Rings
There are more types of rings that coexist than you can imagine. For every mood or style, a ring exists. In case I missed occasions, let's put that first as engagement or wedding rings are the most popularly searched among all types of rings. An essential for all nuptials, the engagement or wedding ring is a prized possession that is carefully selected. Usually characterised as a solitaire ring, these rings are available in various sizes that stretch across budgets.
For more formal occasions, we look to cocktail rings that are usually larger pieces embellished with crystals, stones or pearls and shaped uniquely. And for comparatively casual outings, there exist so many kinds. From signet rings to bands and from gold to silver in the finish, the casual kind of rings will always uplift your style. Select your rings from our long list based truly on your personal style and for days, you're confused, display your modern sensibilities in a stack!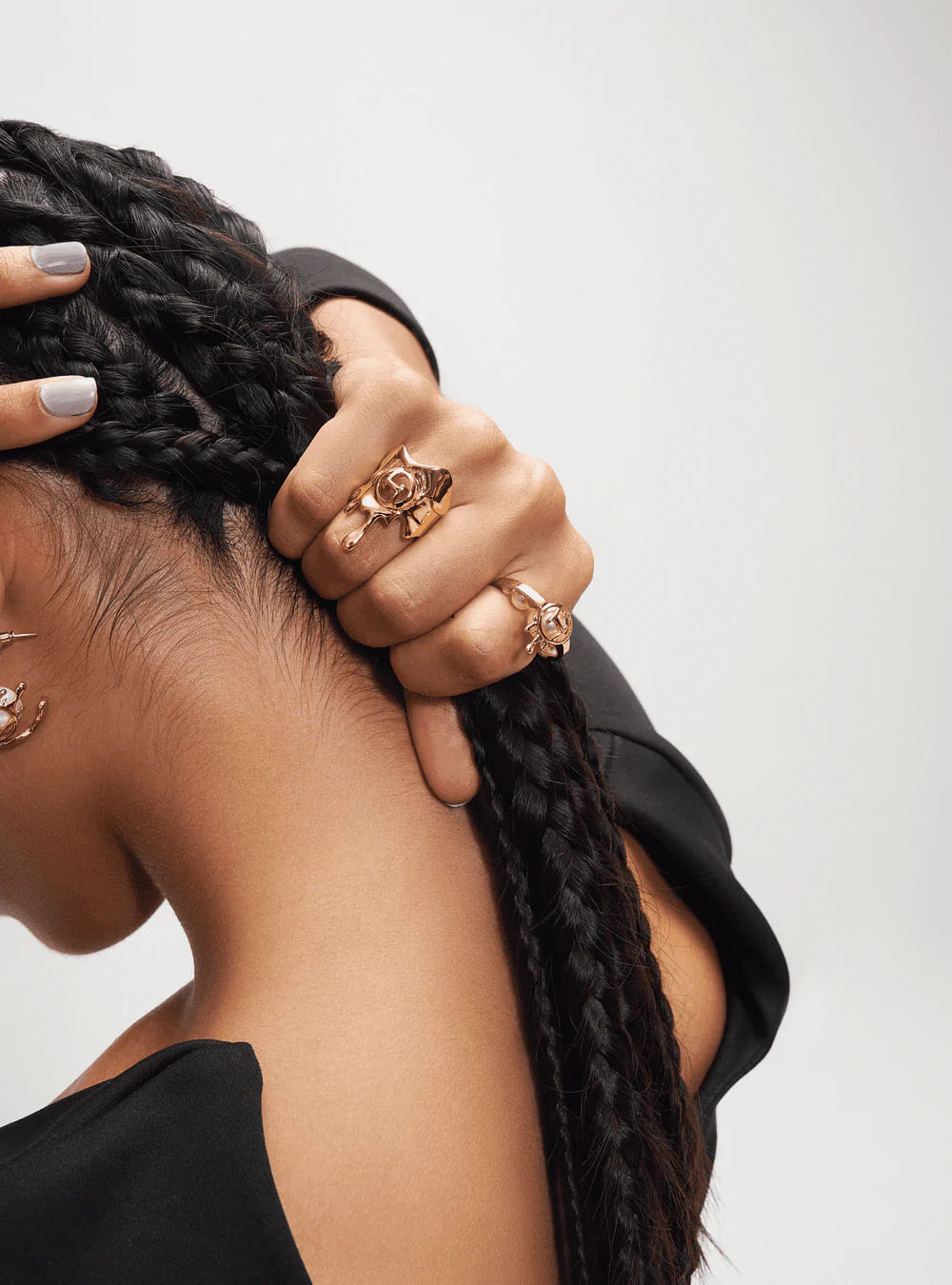 One of the most commonly occurring kinds is gold rings. The alloy of gold is sculpted in different ways to create designs suitable for different occasions. For a contemporary look, a gold band is perfect but for Indian weddings, you'd like an intricately engraved one. Hence, it's ideal to build a collection gradually with the types of rings you are most likely to wear.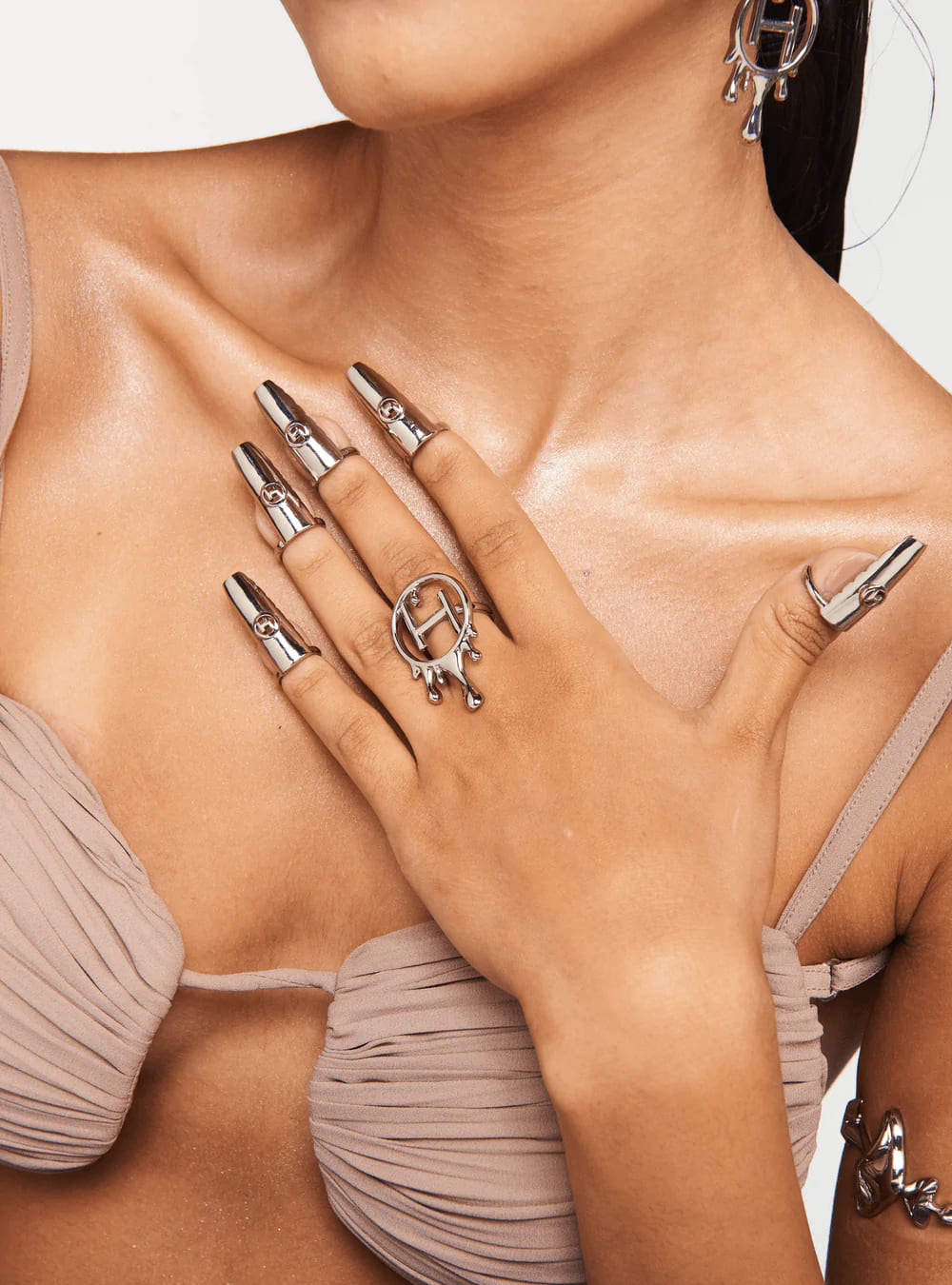 Second to gold rings, comes silver rings - another commonly appearing accessory. As silver may tarnish over time, it is usually mixed with other metals to form a durable alloy. Sometimes gold is converted into white gold to resemble silver. Yet again, endless designs of silver rings exist, some of which may be plain casts and some might be embellished. Silver rings are popularly paired with diamonds for a sparkling effect.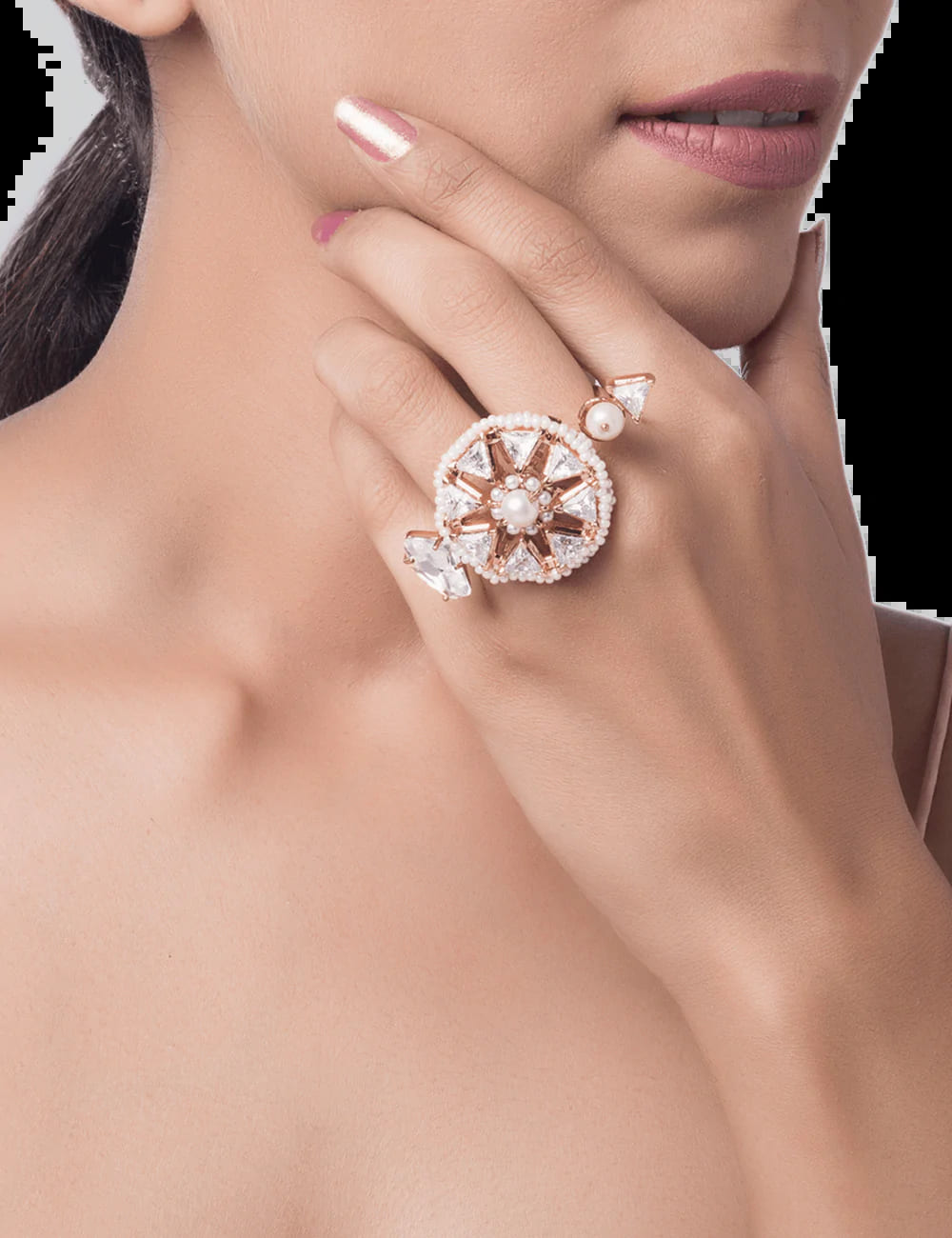 Rose gold rings have gained popularity in the recent past for its ability to suit every skin type or complexion. Rose gold is a precious metal, as valuable as yellow gold or white gold. To make rose gold, yellow gold is mixed with a small percentage of copper from which the pinkish tint arises. This metal can be moulded differently to create a motley of designs, but usually contemporary ones. Rose gold metal is seen in dainty jewellery most of the times, rings being a desirable one.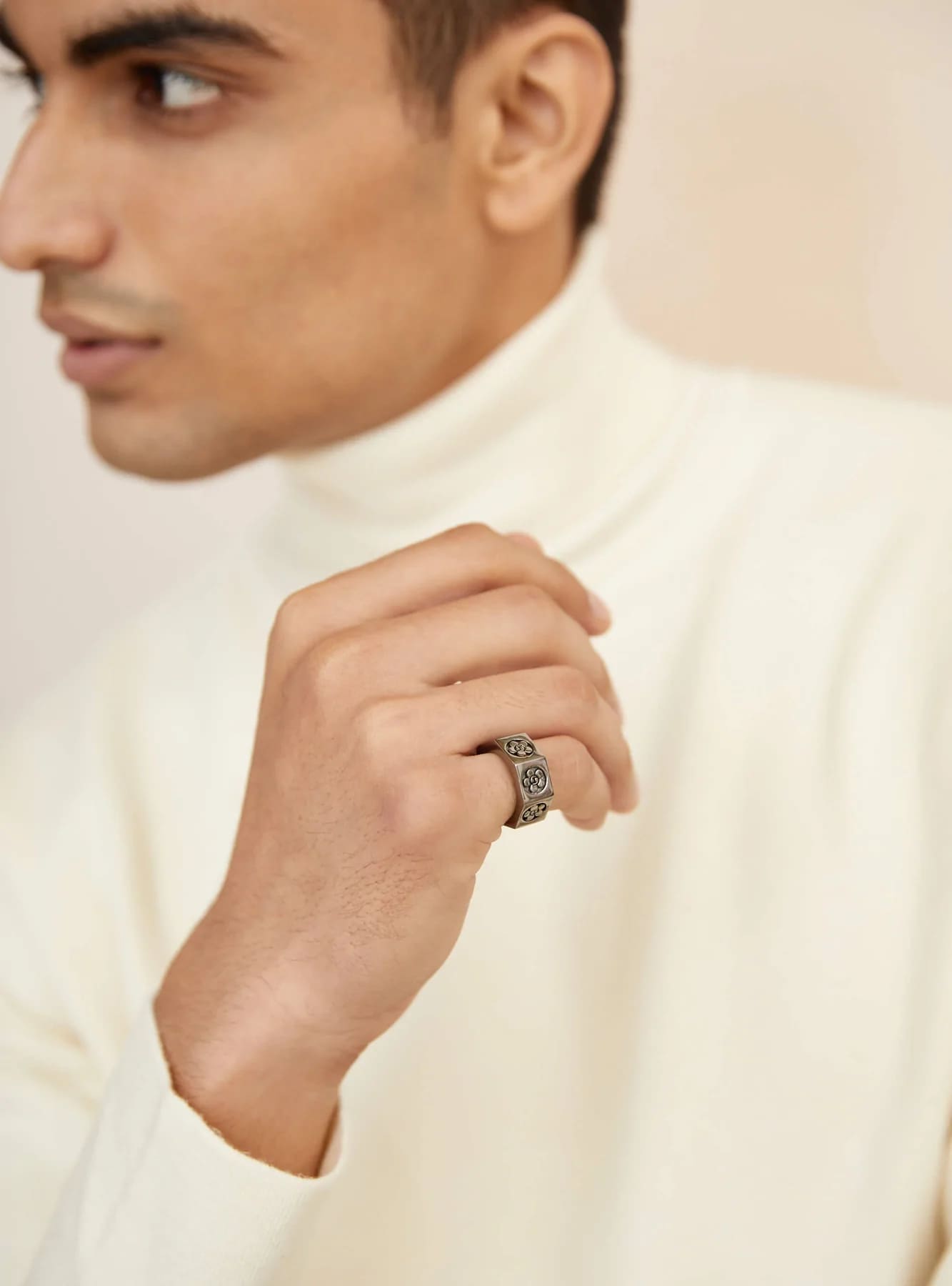 Gunmetal is a dark grey-appearing finish of metals that is brought either by polishing regular metals for affordable jewellery or making an alloy with pure gold for a finer range. This alloy making process is similar to that of white gold, but here the composition of zinc is higher for a darker appearance. Though gunmetal jewellery is versatile, it is commonly used for a men's range of jewellery. When it comes to rings particularly, gunmetal is a good choice for a modern edgy piece. It is mostly seen in casual pieces like band rings.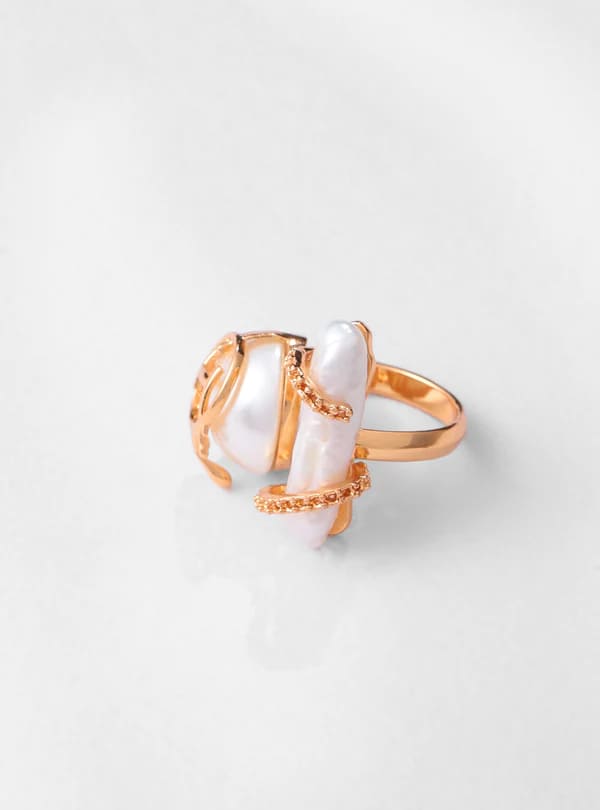 Pearl rings are elegant adornments that meet the true meaning of versatility. Pearl rings are rings that are embellished with one pearl or more on a metallic ring structure. The supporting metal could be gold, silver or rose gold for women and an artificial or natural pearl is attached with delicate prongs. Pearl rings also serve as astrological amulets or birthstone accessories and in these cases, the ring is minimally designed. For more exuberant purposes, pearl rings are uniquely designed with a composition of two or more pearls, mostly of different sizes.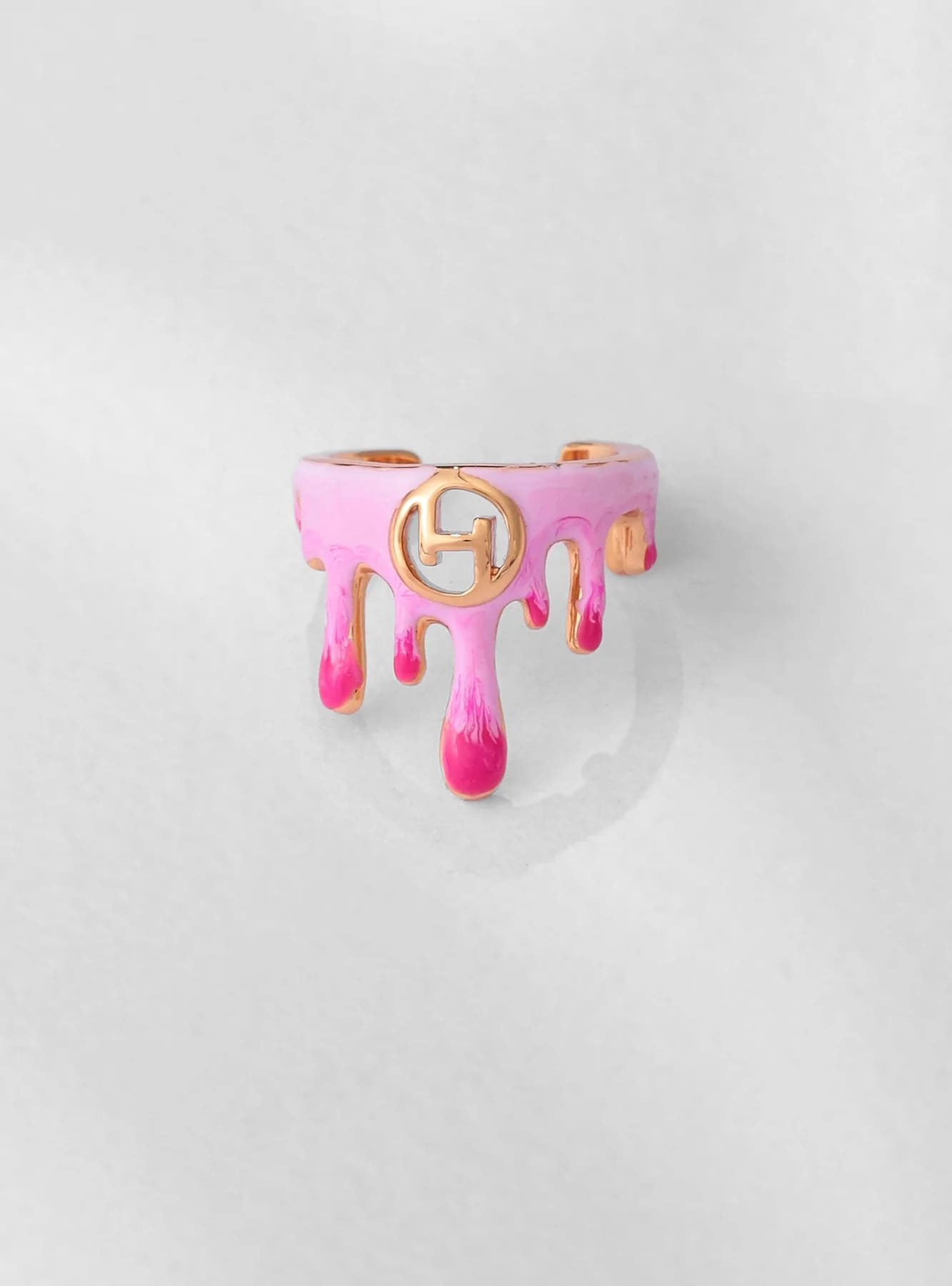 With the preference of coloured enamel, the popularity of unconventional enamel rings has also increased, especially among the millennials or gen Z. These rings are designed eccentrically to match the moods of the target audience. The base metal of these enamel rings is cast elaborately and finished with a pour of vibrant enamel. Opposingly for ethnic occasions, like festivals or weddings, enamel rings are crafted traditionally with an emphasis on Indie motifs. These enamel rings feature more neutral colours or lighter tones and are encrusted with crystals.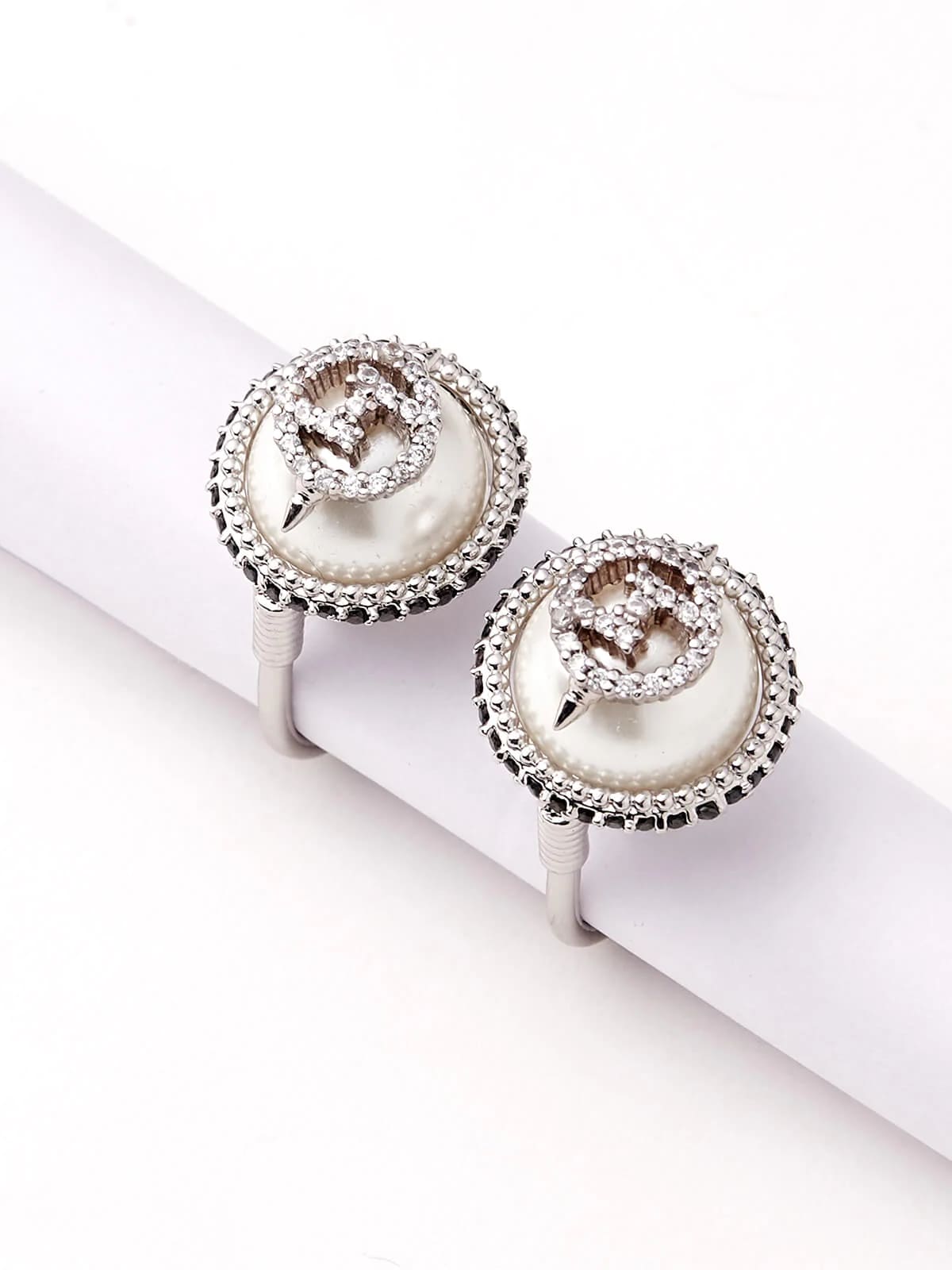 Crystal rings are opulent pieces of jewellery that feature crystals or stones of one colour or different. Encrusted in a pave setting, these crystals can be large or small in size, depending upon the design one is trying to achieve. For everyday wear, crystal encrusted bands are dainty rings that one should have. And contrastingly, for statement pieces, larger crystals are used. You can pair a crystal band ring with a statement ring too for a dazzling look.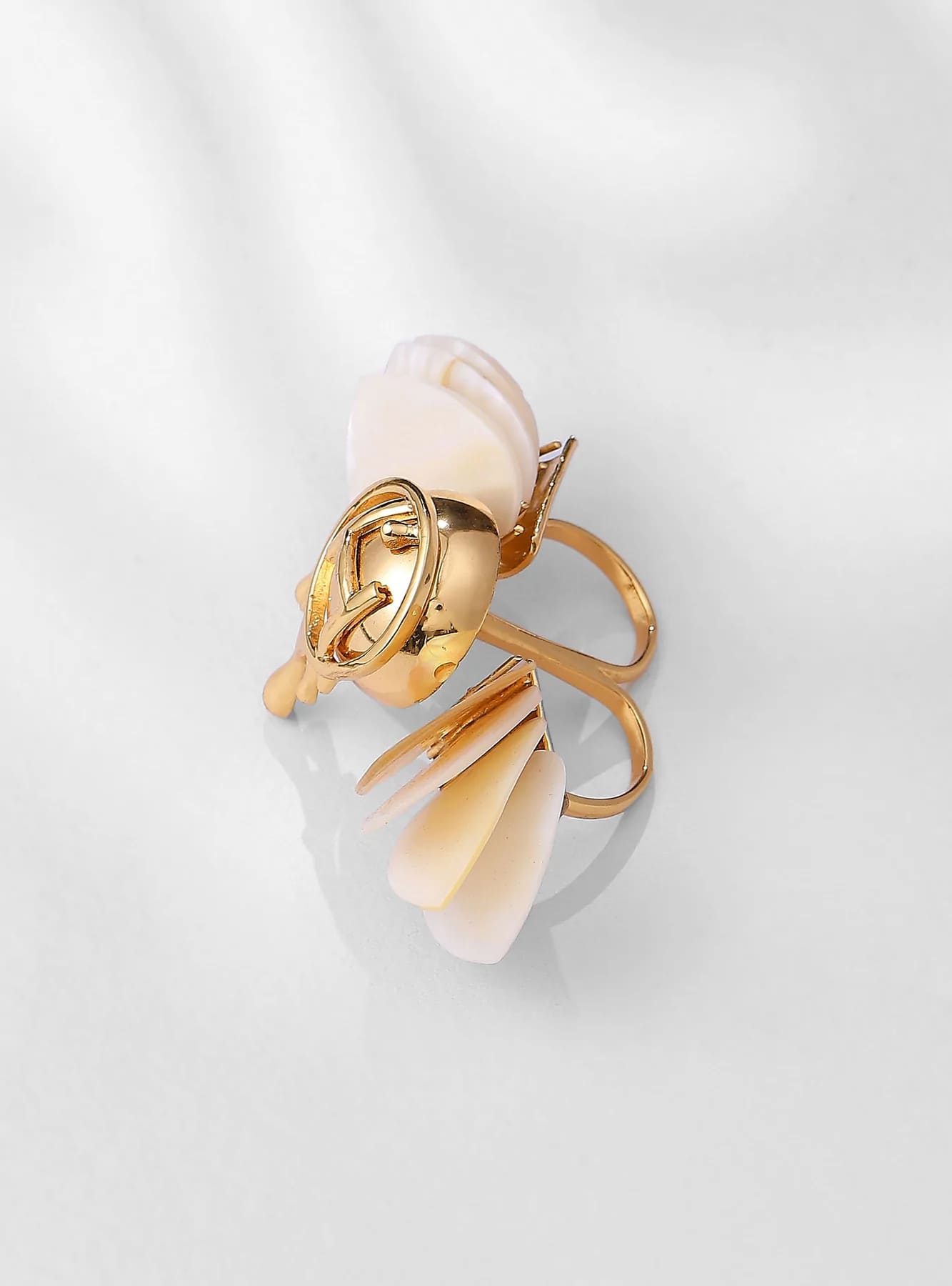 Shell rings are perfect for holidays or summer affairs, brunches or adventurous days out as they spark the beauty of nature. Natural shells of the finest quality are gathered and shaped in the desirable way. Small shells are cute to make their way to your regular wear collection, whereas, shells that are medium to large are used in statement rings only which are not recommended for daily wear. The shells are creatively placed and held together with prong extending from the base metal. Choose a gold base metal as it complements the colour of natural shells the best.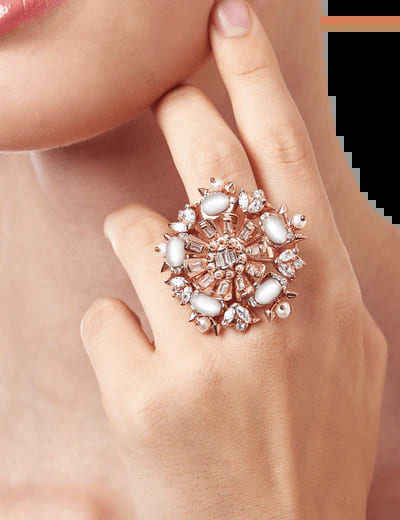 As mentioned before, engagement rings are celebratory rings that are a symbol of love between couples. Exchanged at the time of a formal engagement, rings are women are usually minimally designed so she can have her ring on at every point in time. Following popular culture, these engagement rings feature a singular diamond or solitaire. For men, the engagement ring resembles a thick band with an inlaid diamond.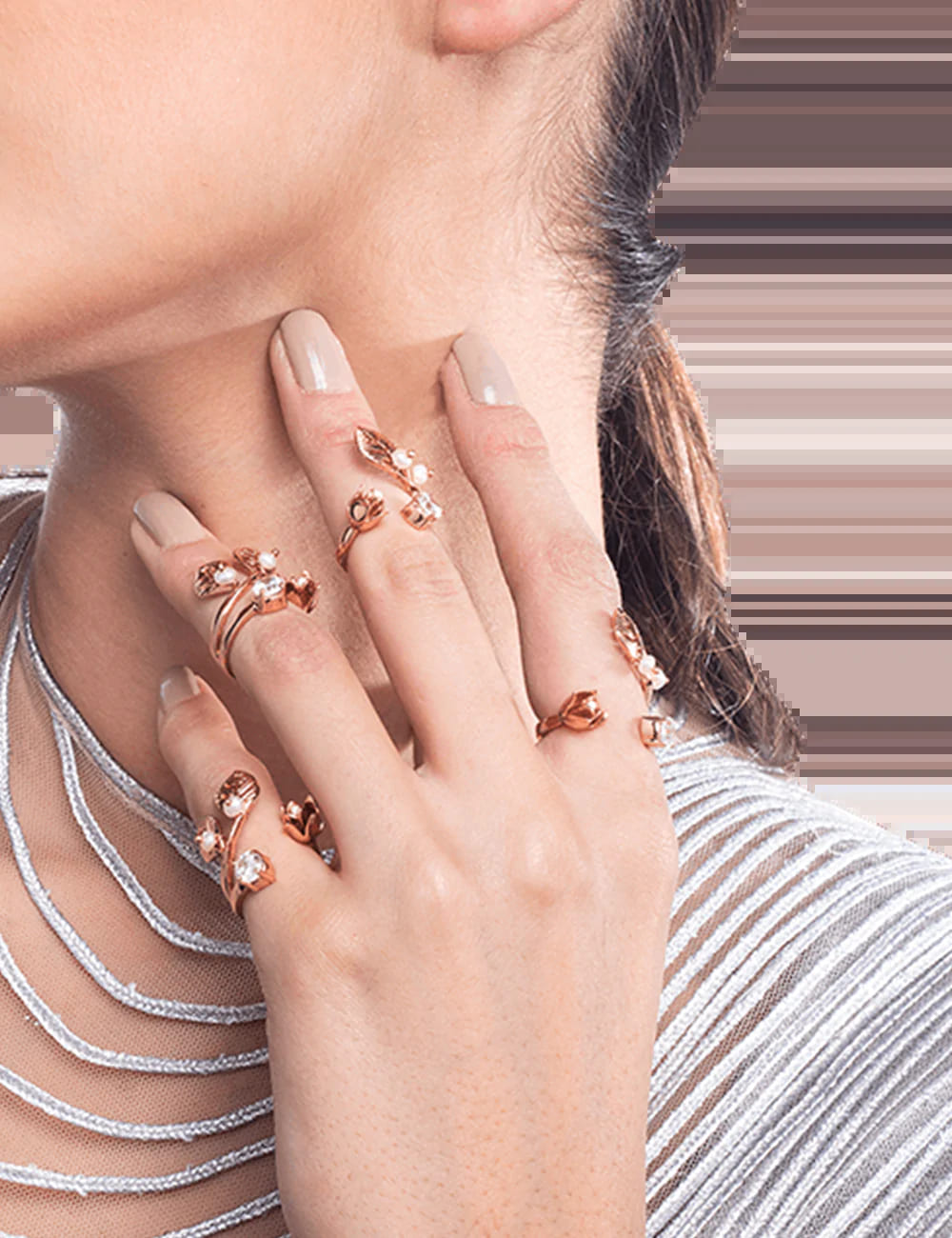 Wedding rings are sold separately and also as sets with the engagement ring. The wedding ring signifies that a woman is married. For instance, the diamond engagement ring is paired with a diamond band.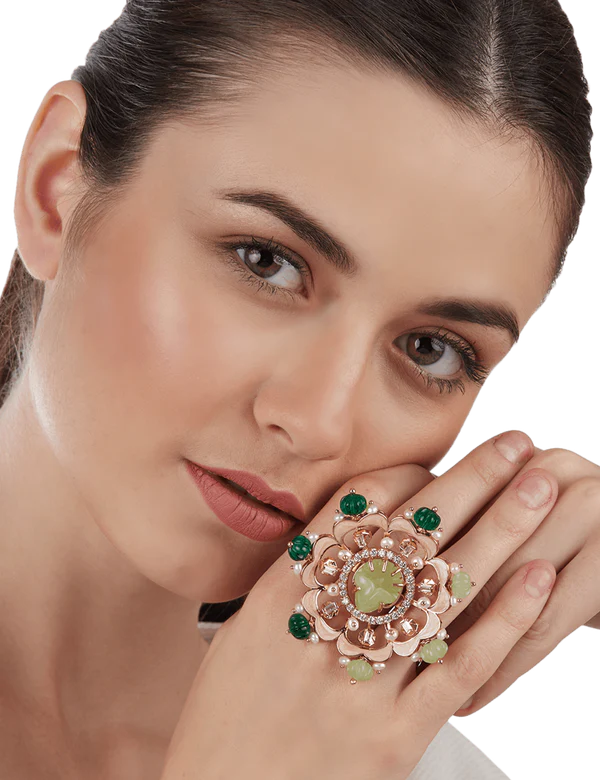 Festive rings are semi-precious rings that are handcrafted with embellishments or enamel. Appearing in different shapes and sizes, these festive rings are vibrant and sparkling to suit the festive spirit. Sometimes, festive rings are attached to a bracelet and sometimes, these festive rings are maximally designed to extend over two fingers.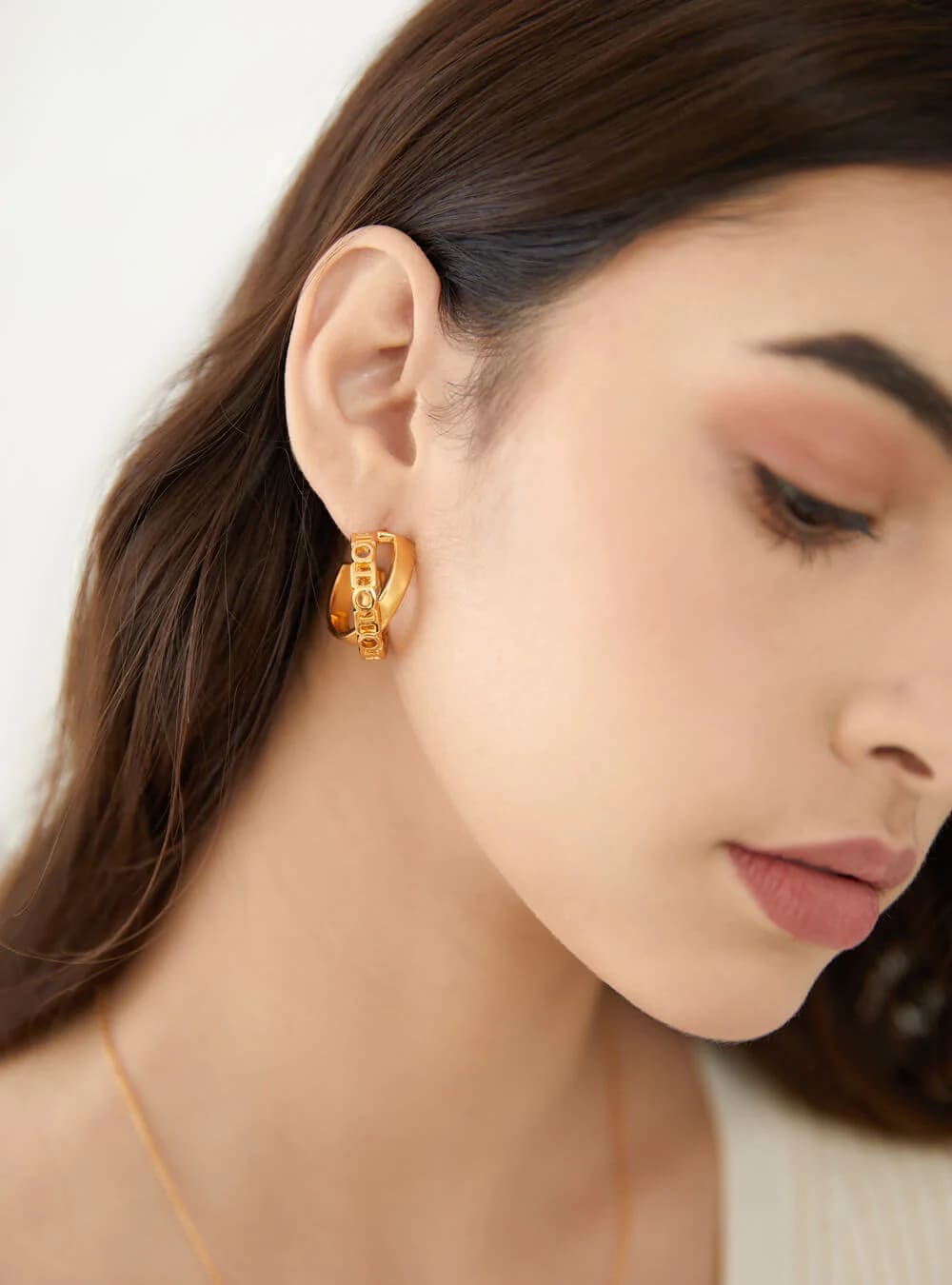 For all casual events including outings with friends, parties or work, contemporary rings are extremely versatile. The type of look is derived from how you style it and from the clothes you pair it with. These are designed with a modern vision and may be metallic in appearance, enamelled or minimally embellished.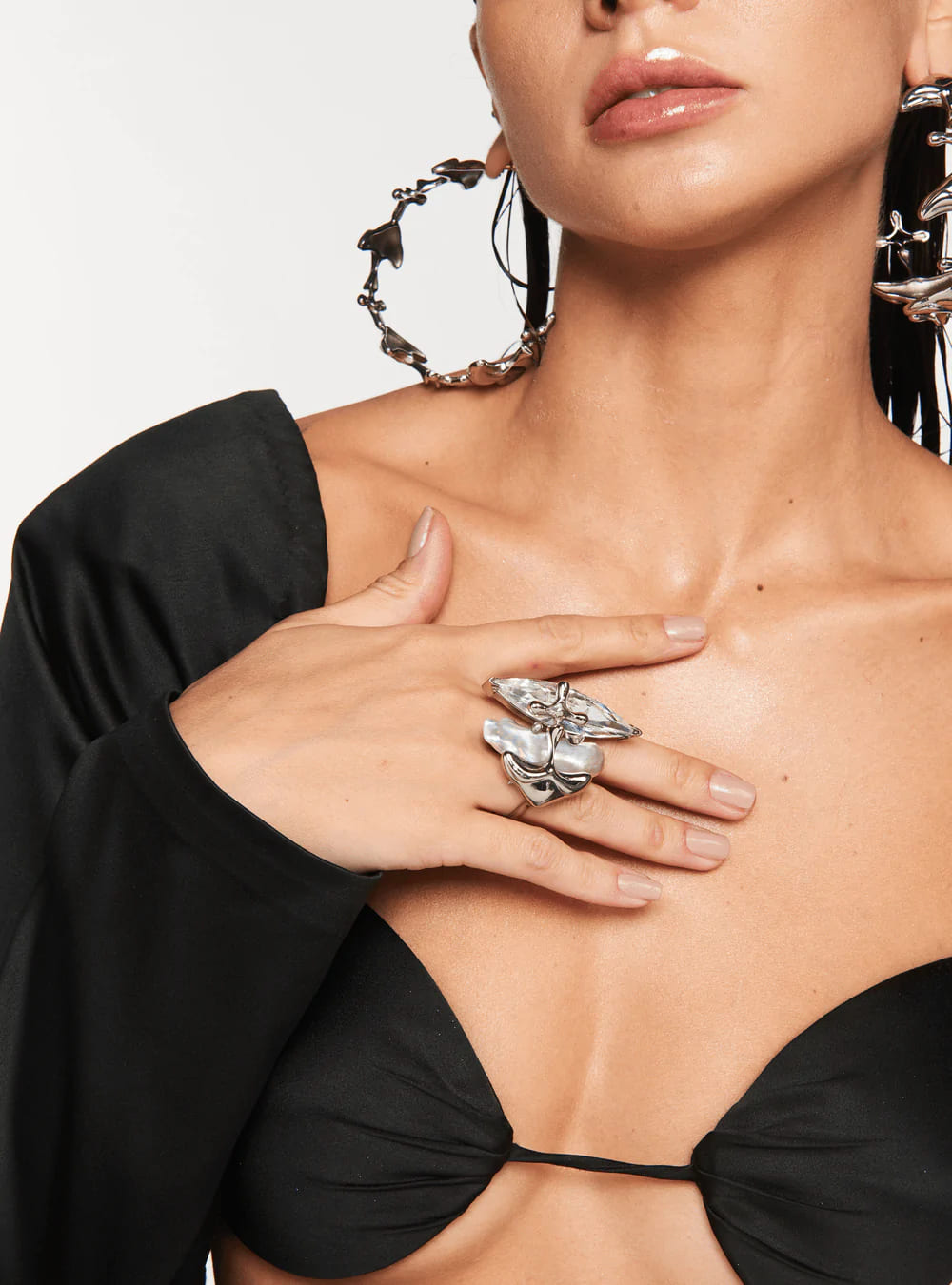 These rings are usually large in size and need support from two fingers. Hence they are worn across two fingers. These fancy rings are heavier than usual due to their embellishments and underlying metallic structure. Making a case for cocktail rings, these rings are perfect to be worn for formal occasions.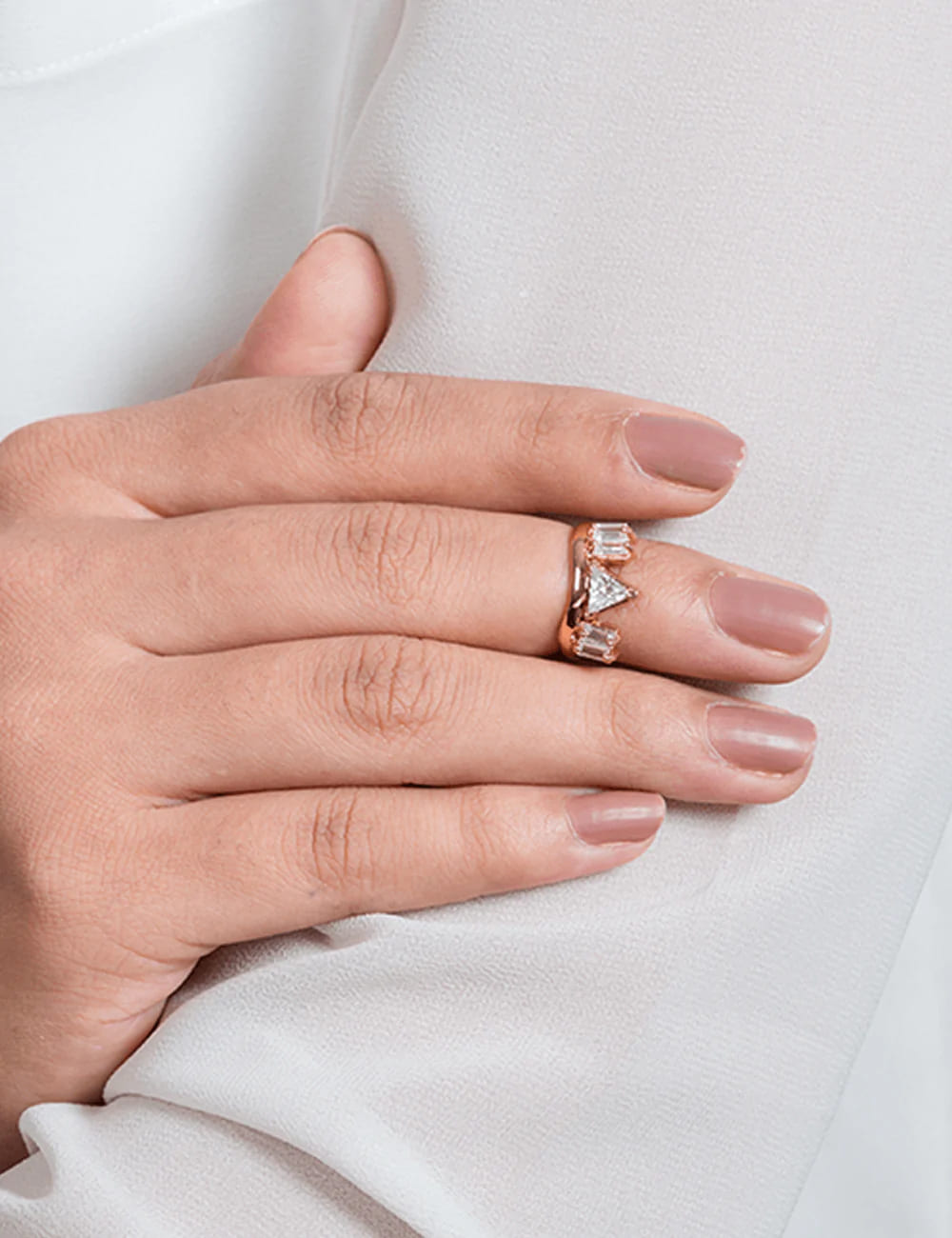 Midi rings are dainty bands that are essentially designed for the mid-finger. Wear these designer rings as a part of your stack of rings.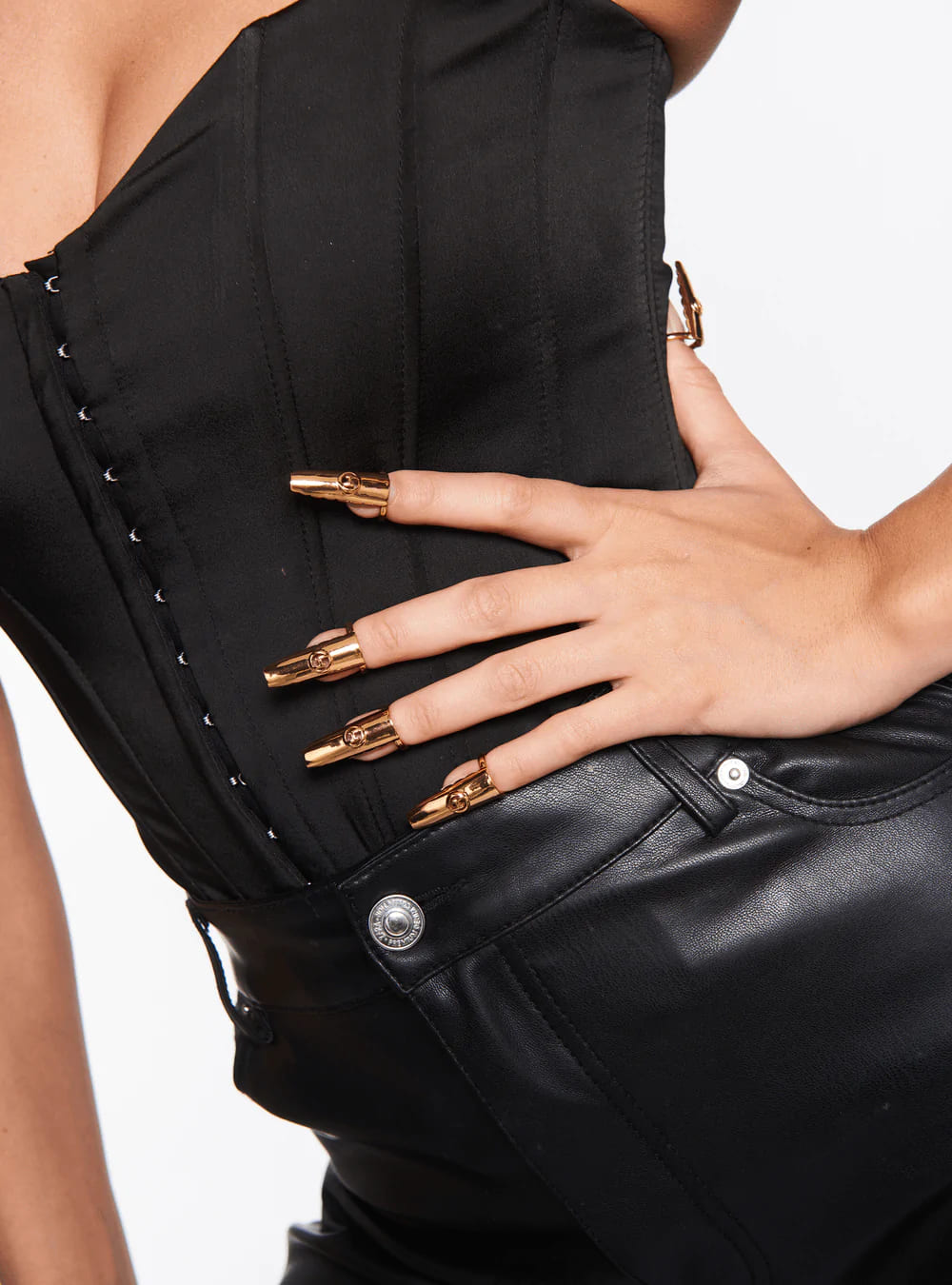 Fingertip rings are new and edgy rings worn at the fingertip or at the beginning of one's nails. They elude maximal vibes and are bold accessories for women. Fingertip rings are slightly adjustable rings that, if needed, can be worn above as a mid-finger ring.
At Outhouse, we've meticulously curated a mesmerizing collection of rings that's as diverse as life itself. From the timeless elegance of gold and the delicate charm of pearls to the contemporary allure of crystal and the unique beauty of shell, our rings are designed to celebrate every facet of your life.
Frequently Asked Questions
What kind of rings are in style?
In the ever-evolving world of fashion, the style of rings can vary from season to season. Currently, minimalist and stackable rings are in vogue, allowing you to mix and match metals and designs for a unique look. However, classic solitaire rings and vintage-inspired pieces are timeless choices that never go out of style.
What is the best ring type?
The "best" ring type is subjective and depends on your personal style, occasion, and preferences. Engagement rings with sparkling diamonds are cherished symbols of love, while statement rings can be an expression of your unique personality. Ultimately, the best ring type is one that resonates with you and complements your individuality.
Which finger is best for rings?
The finger you choose for your ring depends on cultural traditions, personal symbolism, and comfort. Engagement and wedding rings are typically worn on the fourth finger of the left hand in many Western cultures.
What are big rings called?
Large, eye-catching rings are often referred to as "statement rings." They are designed to grab attention and make a bold fashion statement. Statement rings come in various shapes and designs, from oversized gemstones to intricate metalwork, and they're perfect for adding drama to your ensemble.
What's the best way to clean and maintain my rings?
Maintenance varies based on materials. Generally, a soft cloth or gentle jewellery cleaner works. For specific materials like pearls or crystals, follow our care guidelines for long-lasting shine.