Types Of Necklaces And How You Can Style Them
Following the current trends, we're sure you're stacking straight, baggy jeans in your wardrobe. Trust us and invest in necklaces too, for they can uplift your basic tee and jeans to a high-wattage level. Basic or unique, necklaces are available in plenty and having a mix of all kinds meets the dynamic style formula. 
On a day when dressing seems stressful and the thought of 'I have nothing to wear arises, look to necklaces to be your go-to saviour. A pendant with a black tee, a collar necklace with a shirt, a layered duo with a blouse or a choker with your strapless dress, reasons to wear necklaces accompany every mood of dressing. 
The Short Statement Type of Necklace
The first must-have in the list of necklaces is a short one, preferably dainty too. It's easy to style with a regular neckline that isn't too deep, say a shirt or blouse.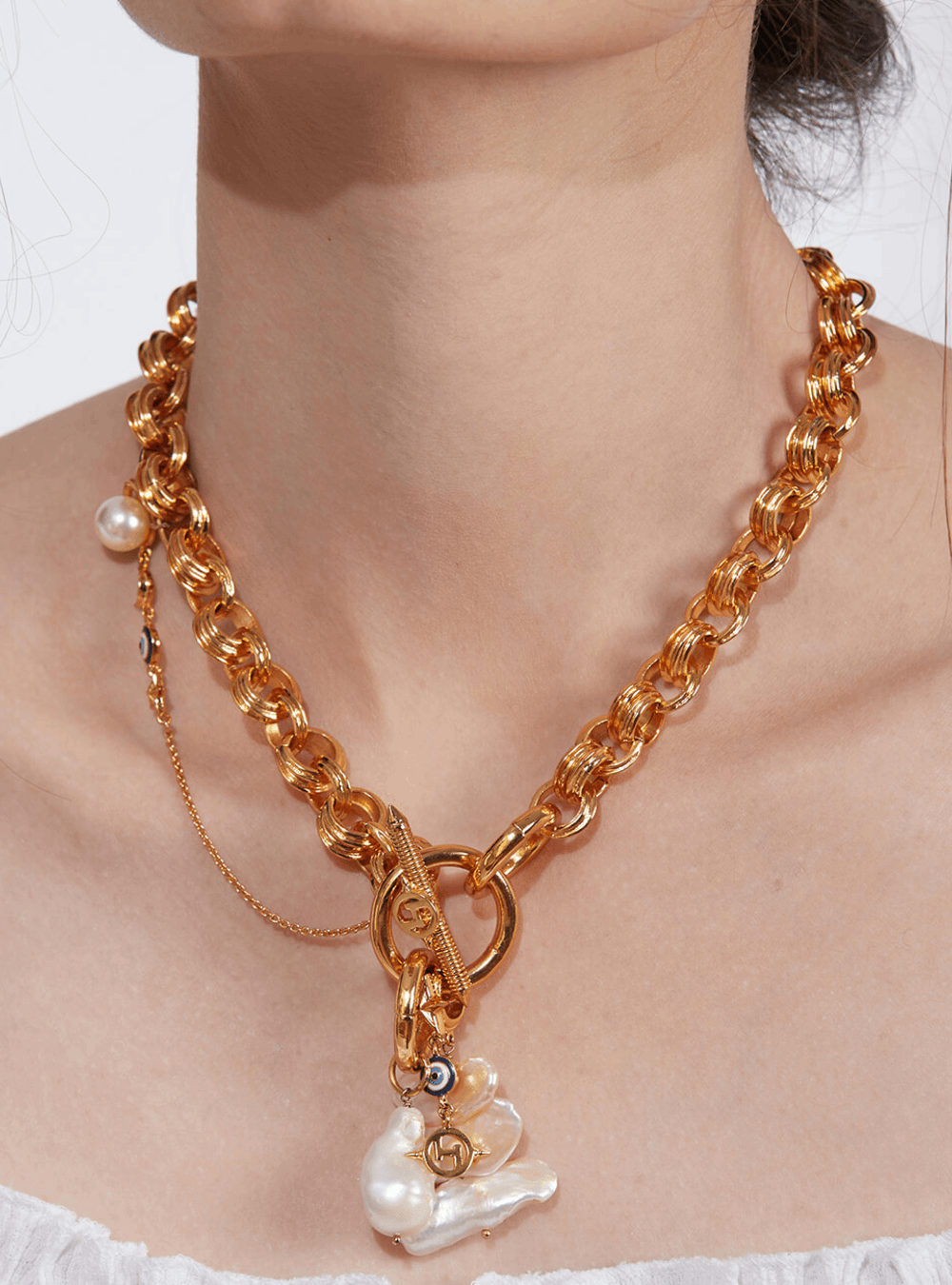 Featured above is the OH Pearls De Celeste Necklace, the chunky chain of which falls slightly below your collar bones. The length and appeal of the necklace makes it a versatile one, which can be worn for a work day or formal occasion. Inundating the 22k gold plated chain are natural keshi pearls, an evil eye charm and the House's iconic monogram. 
The Sleek Midi Type of Necklace
Medium in length, yet sleek, this category of necklaces is suitable for all semi-formal occasions. Style them with a high neck blouse or with oversized fits.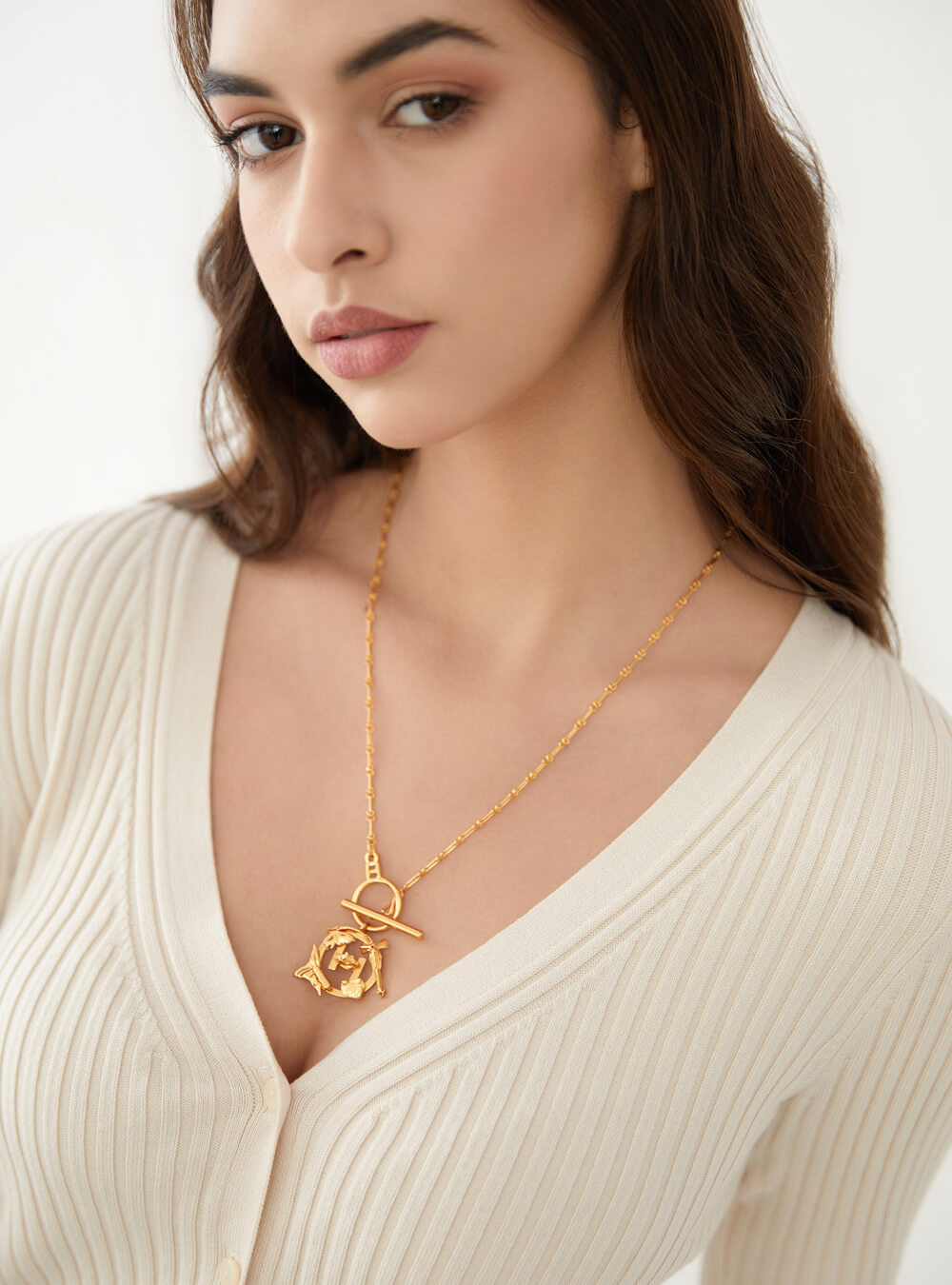 If you're looking for options to add to your cart, we'd recommend the OH V Mini Pendant Necklace. Exceptionally handcrafted by skilled artisans, the necklace is completed with a 22k gold plating. The iconic OH V monogram of the brand captures the centre along with a T-closure. The pendant falls near your chest and can be paired with a longer or shorter necklace from your collection (or ours!). 
The Long Dainty Type of Necklace
A solo statement, a long dainty necklace can add gleaming confidence to your look. Best paired with a blazer, a plunging neckline top or a classic turtleneck, the necklace will be an eye-catching accessory.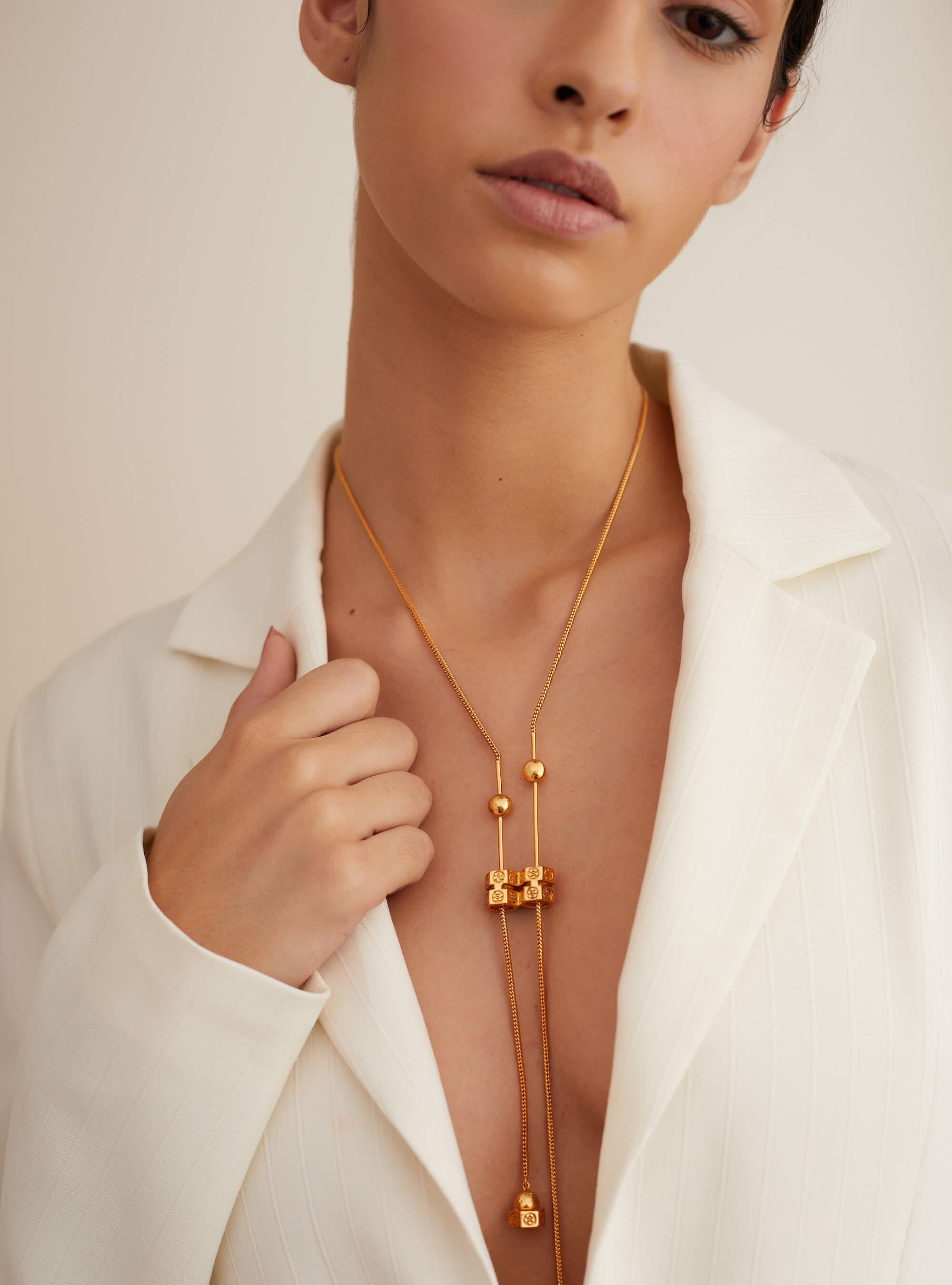 As seen above, the OH Poppi Lever Necklace is a concoction of industrial aesthetics and dainty details. The bolts strung from the gold chain are engraved with the House's five-petal Poppi monogram. Complement this long necklace with the classic Bolt hoops, another Outhouse bestseller. 
The Edgy Choker Type of Necklace
Chokers are retaining the position of 'mainstay' in every woman's wardrobe. It's a timeless accessory that can be paired with a myriad of outfits, be it Indian or Western in appearance - saree blouses, shirts, strapless dresses and more.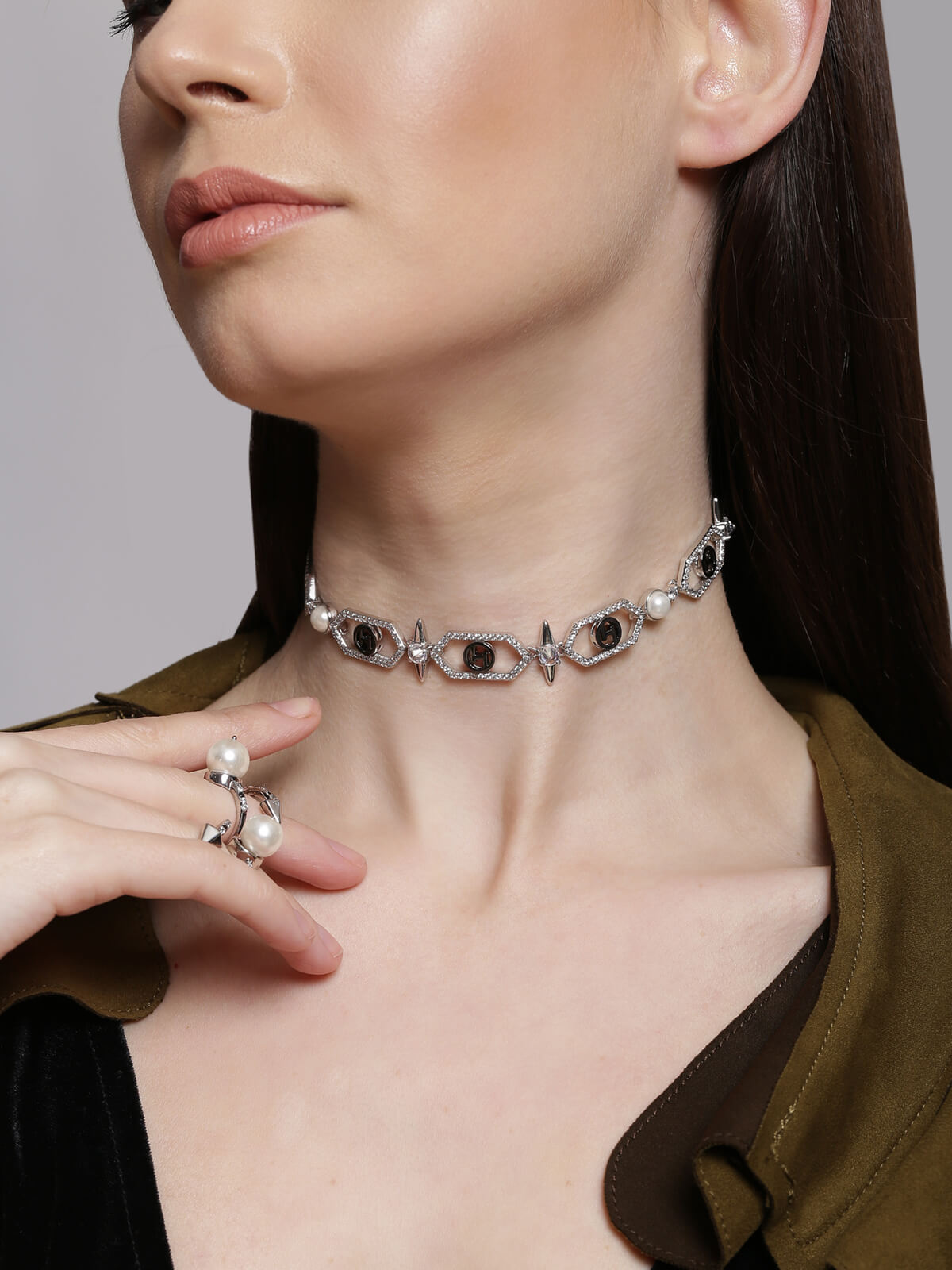 A celebrity favourite, the OH Celeste Sirius Embellished Choker is crafted with pearls, crystals and conical spikes. The motley of glamorous embellishments is held together with a brass structure plated with 22k gold and polished with silver-like rhodium. 
The Chunky Collar Type of Necklace
Collar necklaces are short necklaces, that fit loose in comparison to chokers. They're good to pair with a wide range of necklines - crew, round, V and collared.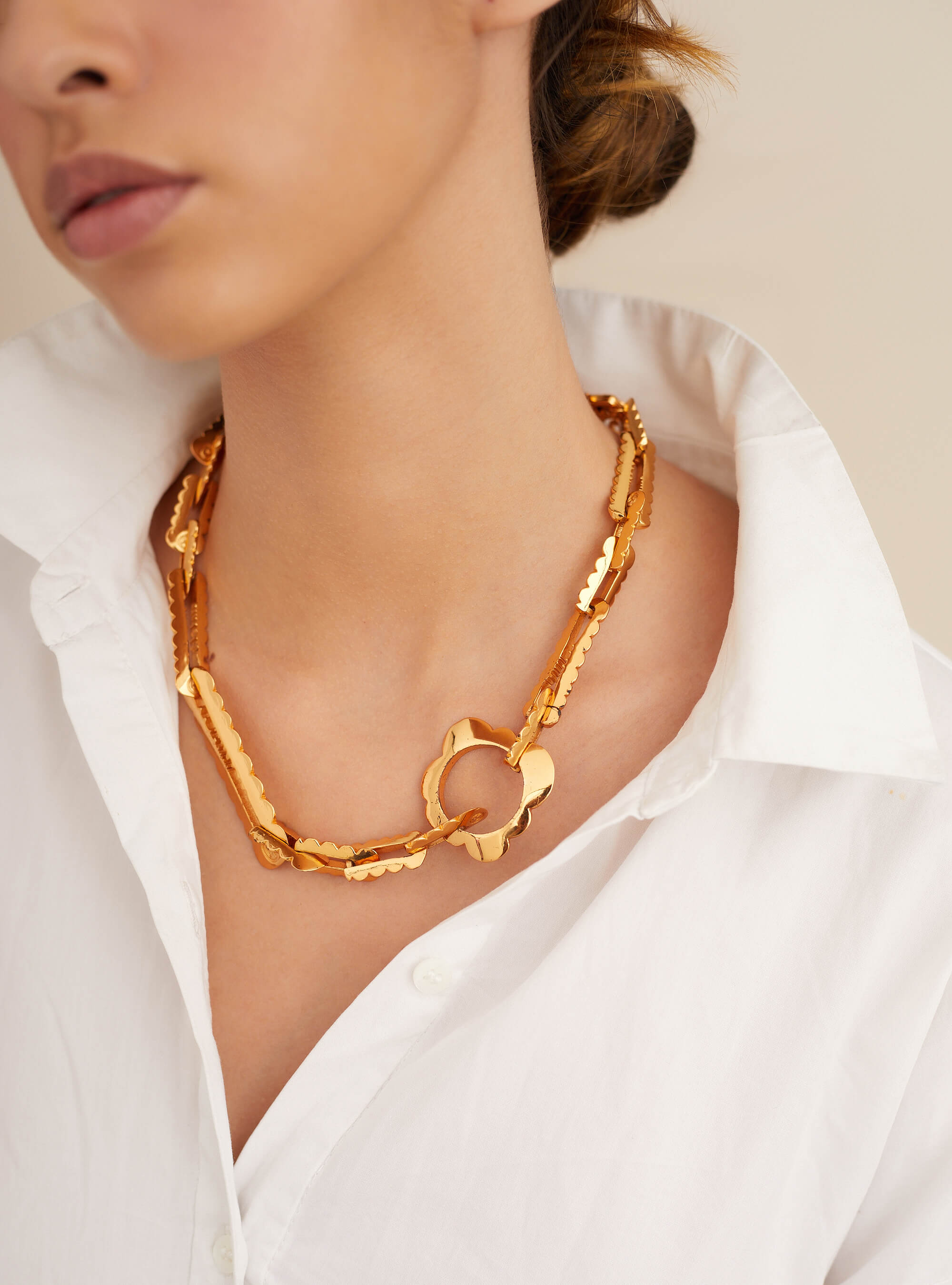 In the highlight, the OH Epee Ferrun Link Necklace is a new rendition of the chain style. The necklace takes the time-loved look to newer dimensions by switching hoops for rugged blade edges that bring a new kind of cool to the look. This 22k gold finish beauty can be styled around your neck wherever you go!