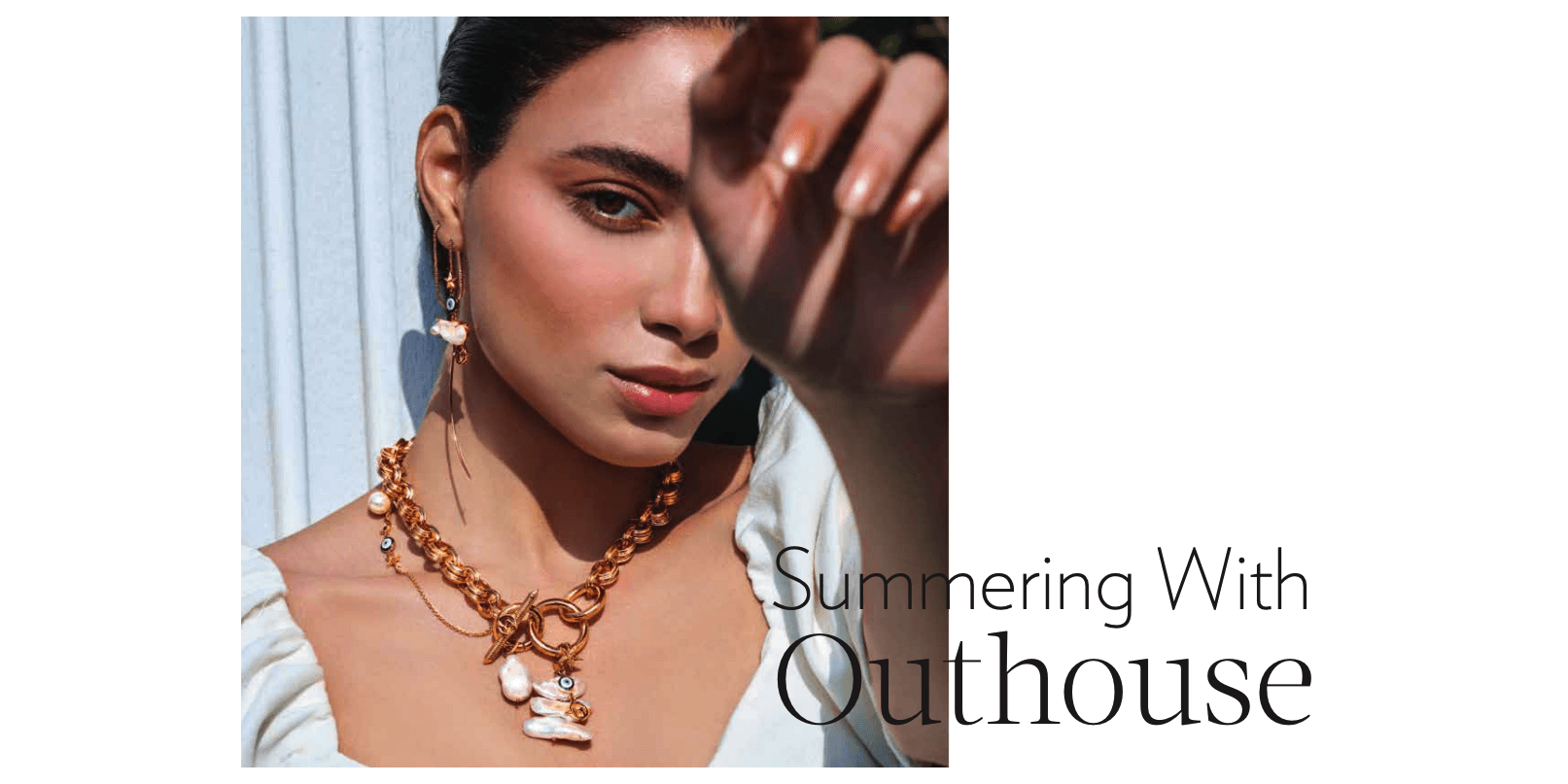 As the warmer days approach and our wardrobes get minimalistic, it's time to put the best bijoux & baubles to good use & let your jewellery do the talking. With our exclusive trove of women's jewellery online, you'll find enchanting collections to adorn and put on rotation this summer - and after that, too.
The House's newest collection - Pearls des Céleste is a flamboyant force of celestial visions. An indulgence of artistic virtuosity, the collection is inspired by the depth & mystery of the abundance of our celestial world, capturing the elusive radiance of the moon and stars in handmade earrings, women's bracelets, pendant necklaces, and statement earrings that are endlessly versatile & pair eloquently well with a wardrobe that likes to summer.
Resplendent of jewels galore, Pearls des Céleste is a trove of jewelled essentials that'll see you through the summer, to adorn your beloved sunnies with an optical chain that can double as a necklace. The Pearls des Céleste Convertible Optical Chain is a perennial favourite - it wraps elegantly around your wrist as arm candy, too, and can be attached to your mask for that added oomph.
A chunky chain necklace - a trend of the recent years that's here to stay, has been reinterpreted with celestial nuances with the Pearls des Céleste Necklace. A silhouette crafted with chain links and embellished with baroque pearls & celestial motifs with its exaggerated style has become a signature of the House. Pair casually with a t-shirt or a tank top for the warmer days ahead. A stackable wonder, the Myriad Choker is a study in multifunctional luxury jewellery. The heart of the choker lies in the carabiner that can be unhooked to create a singular choker or a stacked wonder.
Pearls des Céleste is a collection that's home to pieces that can be worn to multiple occasions. A beachy brunch, a Monday Meeting or a weekend blowout - what have you. There's a jewel for every day of the week, narrowing it down to the ever-classic Hoops. There's one for everyone. The Pearls des Céleste Twisted Hoops, embellished with a luminous pearl pair beautifully with a power-suit or an oversized shirt. The Myriad Twisted Pearl Hoops  are an alluringly OTT adornment, with its intricate handcrafted silhouette featuring the House Monogram & freshwater pearls. The Myriad Mini Hoops are a perfect pair for the minimalists at heart, and they go with pretty much anything from a flowy summer dress to bikinis at the poolside.
The solemn mastery of the collection is etched in its intricate & symbolic details: freshwater baroque & keshi pearls that recall an otherworldly brilliance, emblazoned in a rich 22kt gold finish. Every piece of jewel is an interpretation of the celestial universe that lends a divine & enchanting complexity to its wearer.